Intelligent Fleet Management and Optimization
Track your fleet and keep utilization up with the MagicBus platform. Dynamic scheduling with MagicBus keeps vehicle occupancy high by adjusting schedules based on user demand. Your fleet can serve more passengers and keep you informed with our reporting dashboard and custom integration with vehicle telematics.
Our dynamic scheduling platform keeps vehicle occupancy high while reducing empty trips. Riders can request rides up to a month in advance so you can plan vehicle deployments, driver schedules, and maintenance.
Our built-in reporting gives you mileage, rider, and driver metrics for each route, vehicle, and day of the week. We can integrate with vehicle telematics, fleet management platforms, and other third-party data and reporting platforms to give you detailed fleet and utilization data.
Fleet Management and Growth Challenges
Fleet managers need to keep passenger vehicle occupancy high while
ensuring their vans, shuttles, and EVs are getting the maintenance they need as well as proper storage and staging.
MagicBus can make it easier to track, maintain, and plan your vanpool and employee shuttle fleet with our reporting dashboards, vehicle coordinator scheduling, and third-party integration with vehicle telematics, facility management platforms, and other data platforms.
Hybrid schedules causes fluctuation in demand for employee transportation to the office
Van and shuttle occupancy unpredictable
Reduced parking availability means more employees should ride share
Employees may not have access to private vehicle or predictable transit near their home
Better van and shuttle fleet management and utilization
Demand-based Vehicle Management
Plan vehicle and driver assignments ahead of time based on rider-provided schedules in the MagicBus app
Van and Shuttle Tracking
Get live tracking data, metrics, and ridership data for each vehicle and route
Fleet Management
Plan maintenance, storage, and charging while avoiding downtime and keeping utilization high
Map shown for illustration only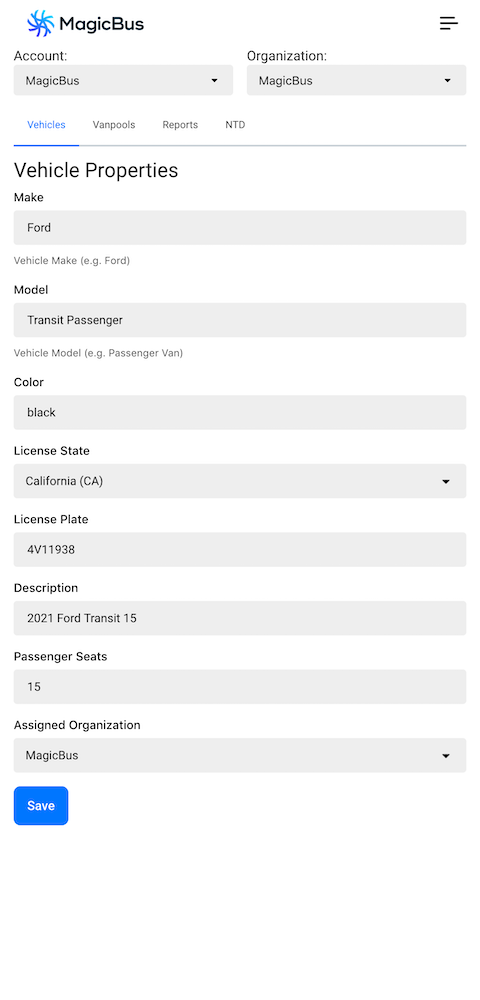 Easier Van and Shuttle Fleet Management with MagicBus
The MagicBus platform helps keep fleet utilization high and keeps more vehicles on the road with predictable routing, maintenance, and charging schedules
Flexible scheduling for riders, drivers, and vehicles keeps seats filled
Customized integration with vehicle tracking/telematics, facility management systems, and badging/access systems
Detailed reporting for vehicles, routes, and drivers to manage and optimize assets
Reporting and Optimization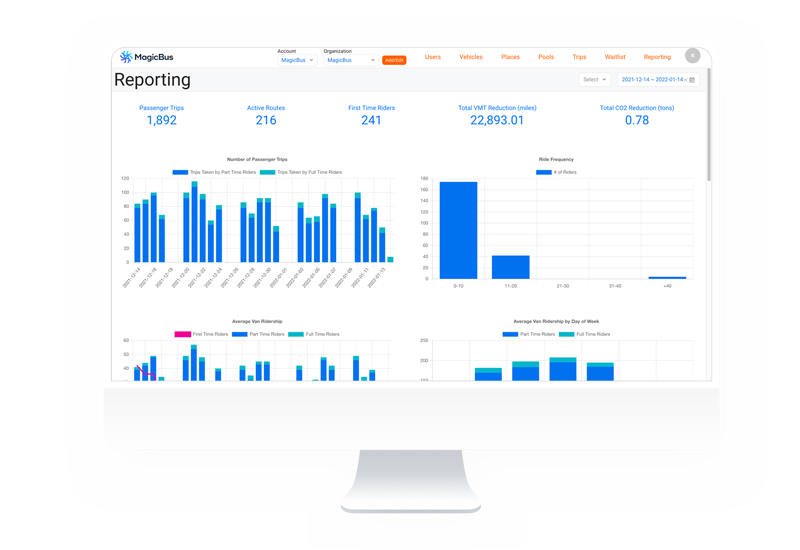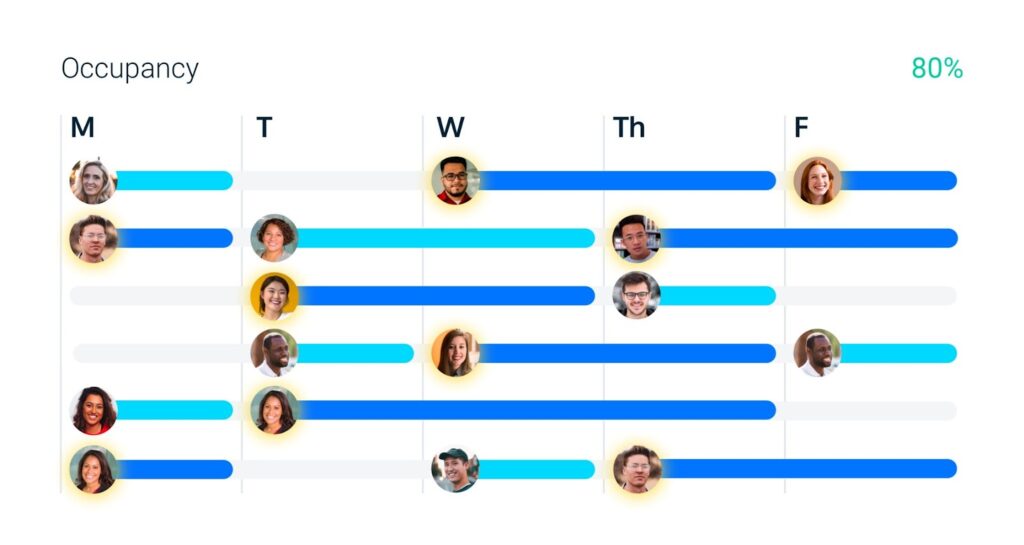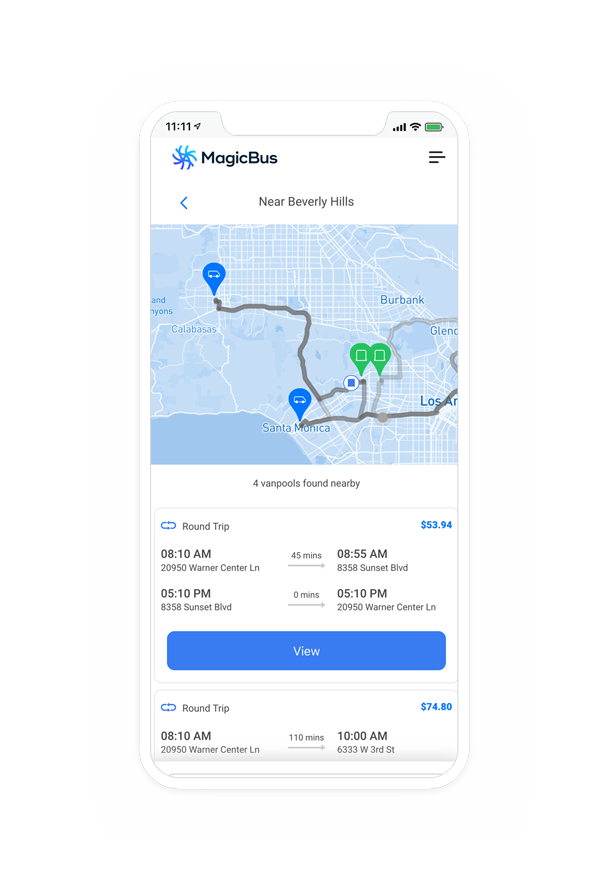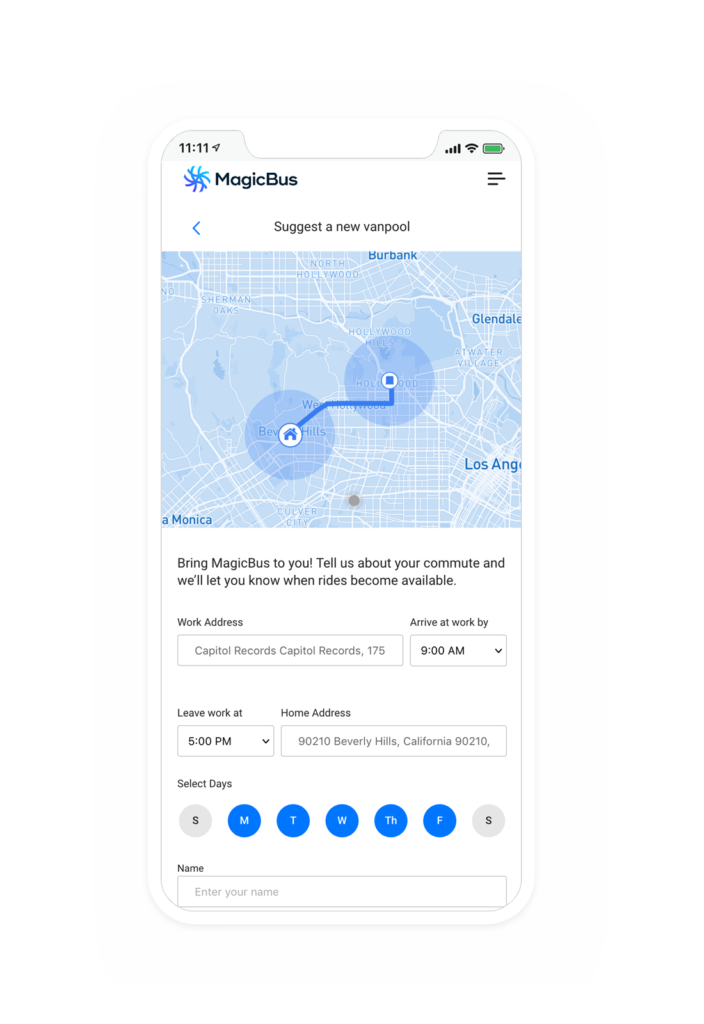 Connect with the MagicBus team today to learn more about our vehicle integration and passenger fleet management options. We can create custom integrations with your existing platforms and data providers to make planning and scheduling easier with informed on-demand ridership.
Thanks for submitting a demo request.
The MagicBus team will reach out to you within 48 hours.
Learn more about vanpooling with MagicBus. Our technology makes it easy to get started and grow your vanpool program and help your employees get to work efficiently.