It's finally here! The first vanpool app with flexible booking
The MagicRide Vanpooling app gives your riders, drivers, and vanpool coordinators the tools they need to get started vanpooling and keep things running smoothly without additional paperwork or scheduling headaches.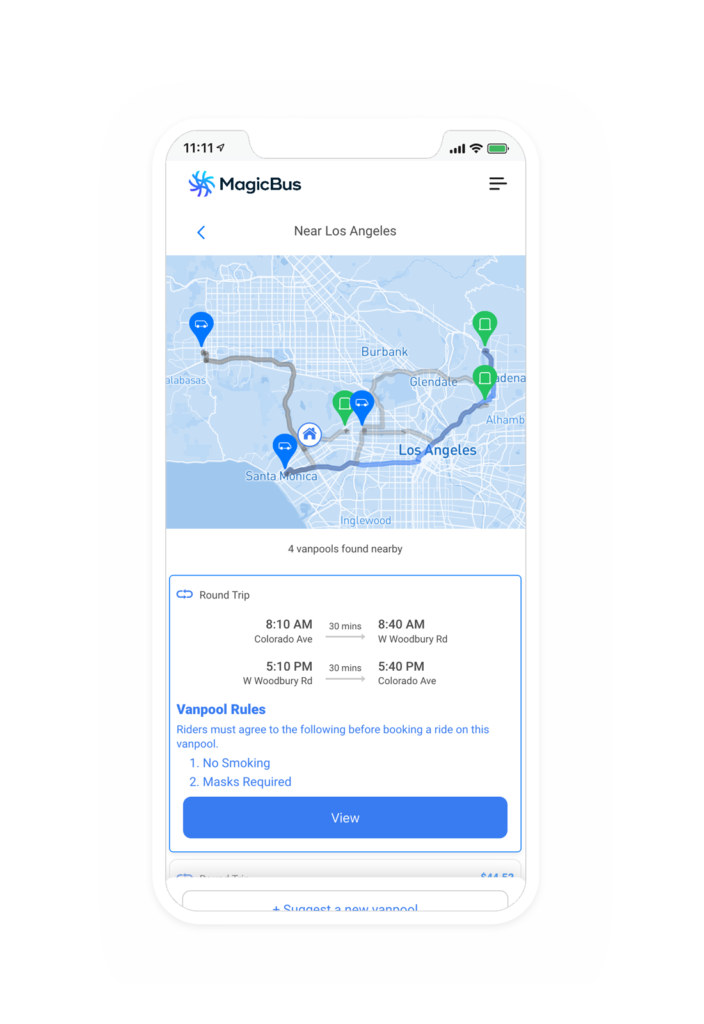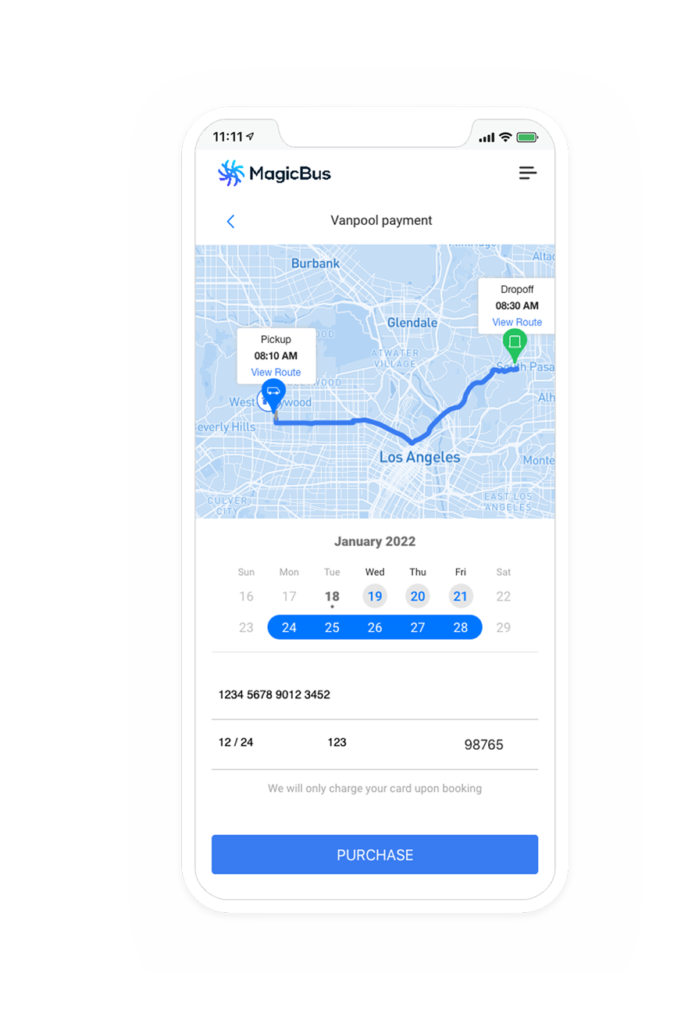 Our MagicRide Vanpooling App lets riders suggest and find vanpool routes so they can schedule and book a seat. Riders can find their vanpool schedule for the week and get directions to and from their stops. Riders can easily cancel or reschedule trips when needed and track their commutes.
Riders can book and pay for their rides using commuter benefits cards as well as standard credit and debit cards. Riders can also deduct fares from their account balance or ride for free when organizations provide no-fee pools to their employees.
Getting started is easy – new riders can dynamically request and book rides as needed. Riders can also subscribe to their favorite vanpool route so their seats are automatically reserved and rebooked every week.

MagicRide App for Drivers
Our app makes it easy for drivers to get started and keep their vanpool running smoothly. Ride matching is easy – all drivers need to do is set their availability and MagicBus matches them with riders and a van. Drivers can manage their schedule and let alternate drivers take over if they're not available.
Driving is simple – your scheduled rides pop up immediately with directions for each stop. Drivers can easily tap in when they show up at a stop and confirm riders when they board. Our MagicRide chatbot can also provide updates and respond to driver requests on their mobile phone for schedule changes and service requests.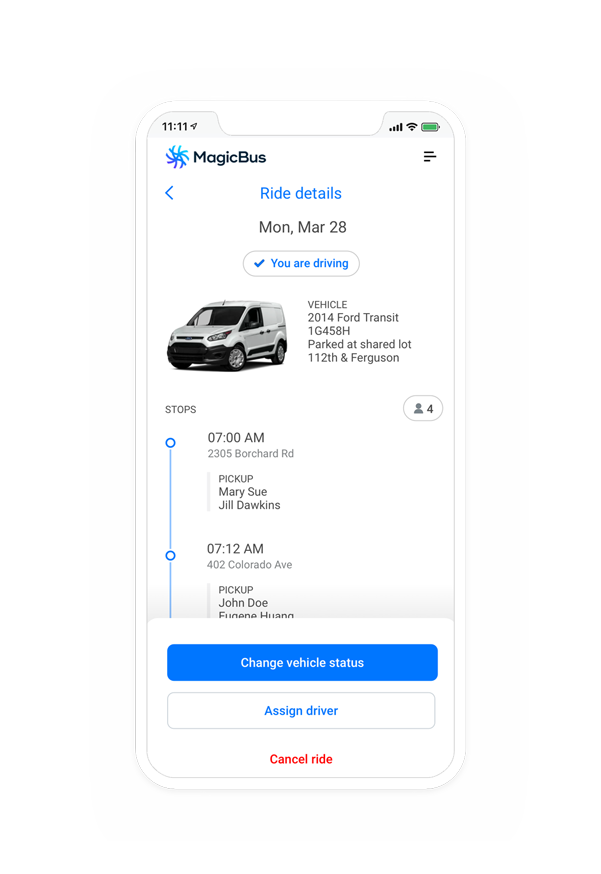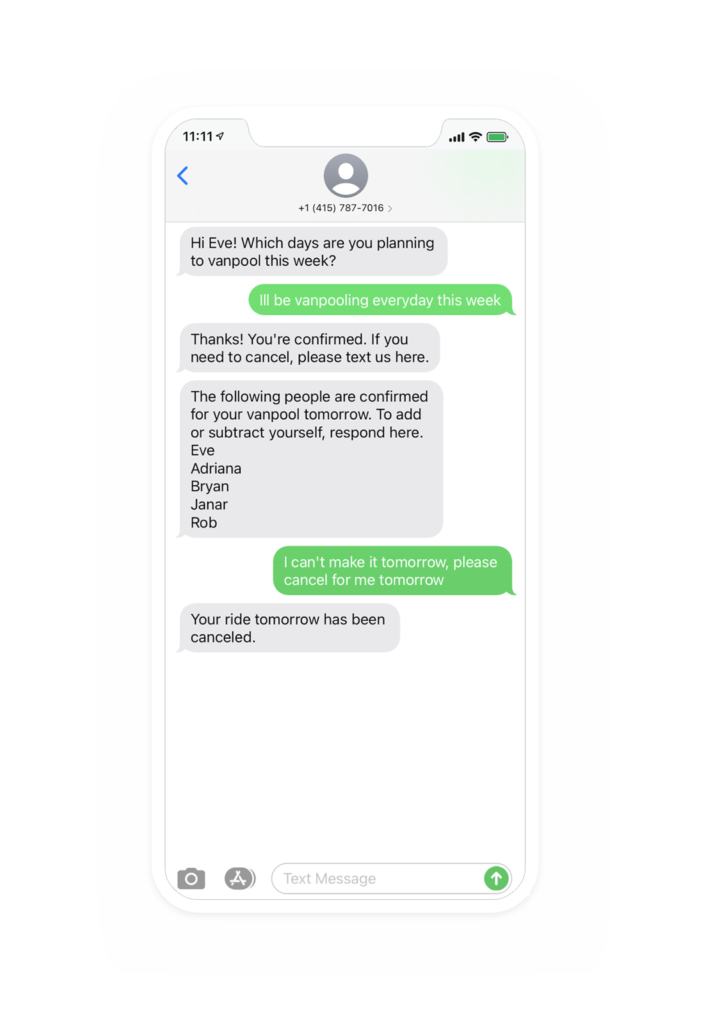 The MagicBus app helps vanpool coordinators keep their vehicles moving while staying in sync with drivers and riders.  Coordinators can get new pools started by assigning vehicles and drivers to pools so riders can start booking.
Coordinators can also keep pools flowing smoothly by managing driver and alternate driver scheduling, reassign vans for maintenance requests and breakdowns, and identify new service areas for more vanpool coverage.
Integration and Easy On-Boarding
The MagicRide Vanpooling app can be customized for your organization's needs. You can quickly onboard your employees with personalized invites, customized branding, and app experiences that sync with your other employee resources and portals.
Onboarding users is a breeze – you can preconfigure employee roles and invite them to set up their account via email or SMS. Once confirmed your employees can easily find and book vanpool routes for their office, set up any payment or account balance details, and quickly connect with support for any assistance – including roadside assistance on the day of their trip.
MagicBot and Notifications
The MagicRide SMS chatbot keeps riders and drivers updated on their upcoming trips directly through text messages. Riders can confirm their upcoming schedule so they can get riding right away and cancel trips just by sending a text. We update any other riders in the area about open seats so that they can book a ride and keep vans running full.
Drivers get updated whenever new riders join their pool and get their trip itinerary before they depart. Drivers can quickly tap over the MagicRide app to view trip details, get directions, and start their journey.
The MagicRide Vanpooling app ensures that your pools can get started easily and run smoothly – but we also provide in-depth reporting on how your vanpool program is performing. Organizations can see where more service is needed and adjust routes, vehicles, and drivers to meet that demand. Organizations can also optimize their routes to minimize downtime, reevaluate underused stops, and ensure their fleet is being utilized to the fullest to provide the best service with minimal downtime.
Test Drive the Vanpooling App Today
Interested in learning more about MagicBus and want to see our Vanpooling App in action? Schedule a demo to learn how you can improve the vanpooling experience for your employees and give your drivers and coordinators the tools and insights they need to efficiently manage your vanpool program. We can provide recommendations, route suggestions, and a roll-out guide to get your vanpool program up and running. Get started today with MagicBus and you can start running vanpools in as little as 24 hours.
Schedule a demo today to learn more about the MagicBus vanpool platform for your organization and MagicRide app for your employees. Learn more about our user-friendly app that makes finding and booking a vanpool easy.
Thanks for submitting a demo request.
The MagicBus team will reach out to you within 48 hours.