Electric vans are becoming a popular option for vanpooling thanks to growing charging infrastructure, government purchase incentives, and diverse manufacturer and upfitter vehicle options. Electric vans can offer a lower cost of ownership over the entire period of ownership through reduced fueling/charging costs and lower maintenance expense compared to internal combustion engine (ICE) vehicles. Best of all – electric vanpool programs can reduce carbon dioxide emissions and single occupancy vehicle trips to further cut down on per-person commuting emissions.
Vanpools are ideal for electric vehicles since trip lengths are typically much shorter than total range and vans have plenty of time to charge overnight or while parked at their destination.
Electric Vans Options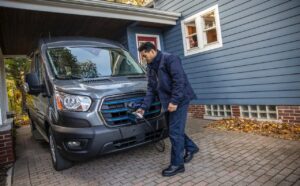 There are a number of hybrid electric and full battery electric vans available from major manufacturers. Upfitters are also providing electric refits of existing vans (both new and used). Purchasing new electric vans also allows for customization of the interior and accessories to best fit the intended route or service.
Leasing options may also be available for electric vans when building a new fleet or to add to an existing ICE fleet. Companies such as Penske, Merchants Fleet, LeasePlan, and others are beginning to offer electric van leases. These lease programs can also cover maintenance of the electric fleet.
Additional programs exist to make electric vehicle procurement easier for public fleets such as the Climate Mayor's EV Fleet program.
Cost of Ownership
Electric vehicles are typically more expensive to purchase than an equivalent internal combustion engine (ICE) vehicle – but long-term cost of ownership can make electric vehicles competitive and in many cases less expensive to maintain than an ICE vehicle.
Fuel vs. Charging
Fuel and electricity prices can vary greatly from region to region and over time but typically electric vehicles cost less than a gasoline equivalent to fuel or charge over the lifetime of the vehicle. The National Renewable Energy Laboratory calculated the Lifetime Fuel Savings Cost across the United States and found that an electric vehicle could save up to $11,000 over its 15 year lifetime when comparing electricity costs to fuel costs.
This savings mostly comes from the improved efficiency of an electric drivetrain compared to an internal combustion engine as well as the reduced cost to generate electricity at scale used to charge an electric vehicle.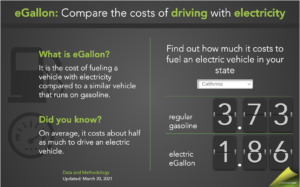 The Department of Energy tracks electric charging prices compared to gas prices using their eGallon tool. eGallons can help compare the cost of fueling an ICE vehicle in each state with the estimated energy usage for an equivalent electric vehicle.
Maintenance
Consumer Reports found that battery electric vehicles can cost less to maintain than internal combustion equivalents. Expenses can vary over the lifetime of a vehicle but battery electric vehicles can cost less than half as much per mile compared to ICE vehicles with a total maintenance saving of up to $4,600.
Electric Vehicle Charging Options
There are a number of options for electric vehicle charging but the location of the charger as well as the vehicles being used will largely determine which charger to use. The GSA provides a flowchart for picking charger type based on your install location, metering requirements, and existing electrical infrastructure.
Typical vanpools travel shorter distances and are often parked for extended periods of time at the office or at the driver's home. This means most electric vans may not need high speed chargers and can instead use level 2 or other slower charging standards.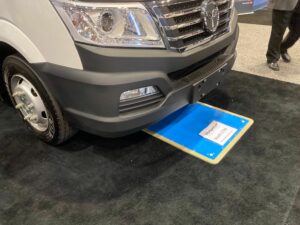 The Department of Energy provides a number of resources for building out electric charging infrastructure including building and parking codes, incentive information, and planning tools for charging infrastructure. Owners of electric vehicle charging stations may be eligible for additional tax credits.
Large fleets may also benefit from mobile chargers installed in support and maintenance vehicles. Mobile chargers are typically used to rescue discharged vehicles when they're away from a fixed charging location. Mobile chargers can also be used for temporary service to "off site" locations where electric infrastructure may not be available.
Incentives & Rebates for Electric Vans
Incentive programs can vary by region but many local, state, and federal programs may be available to help purchase electric vehicles and chargers as well as discount the price of electricity when used to charge an electric vehicle.
The IRS provides EV purchase credits starting at $2,500 per vehicle with a maximum of $7,500 for vehicles with a large battery and charging capacity.
Municipalities and non-profits may still be able to benefit from the tax credits even if they can't directly claim them or write them off. The IRS allows the seller or lessors of EVs to claim the tax credit and pass the savings through with a lower purchase or lease price.
The Department of Energy also provides information, resources, and cost estimates for acquiring and supporting EVs for federal programs. Government entities may be able to purchase EVs at discounted rates and vehicle chargers through GSA programs.
Additional incentives may be available at the local and state level. States such as California, Pennsylvania, New Jersey, and Oregon offer purchase and charging credits for electric vehicles that can cover fleets.
Next Steps
Get in touch with the MagicBus team to learn more about electric vanpools. We can connect you with electric van providers and incentives in your area to launch or convert your existing vanpool program to electric vehicles.